October 2021 Newsletter
How Can Osteopathy Help Children?
This is a great question and the answer is:
"by helping ease tensions of growth spurts at all ages, from newborn and childhood through to teenage years and the 18 year old adult".
Osteopaths are trained to differentially diagnose the cause of any tensions or issues and devise a safe, gentle way to restore and maintain your child's health and well-being.
Children will experience the dynamic changes of growth and development in different ways…. Some will experience and demonstrate discomfort, aches & pains or show signs of not being their normal self. Other children will seemingly sail through childhood and then suddenly in teenage years start showing signs of discomfort.
Any sign of musculoskeletal discomfort should not be dismissed. Osteopathy can help diagnose any issues and help your child on to the road to recovery. Our Osteopaths will also give lots of advice and explanation so that your child can learn the tools of self-care and this can be a wonderful building block for adulthood.
Kind regards,
---
Young Babies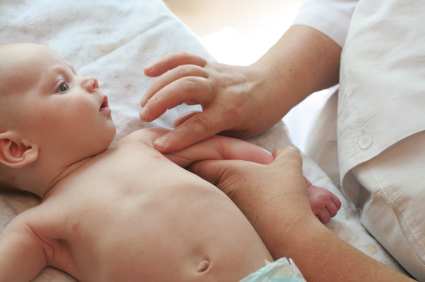 With babies, intra-uterine position, labour and newborn growth spurts may cause muscular tensions. As your baby develops you may notice that your baby turns their head one way when sleeping, favouring one side, or they may experience difficulties with digestion.
Our specialist Cranial Osteopaths can use very gentle techniques to balance the body and release physical tension and treatment will encourage function and movement. Cranial Osteopathy will therefore ease tension and soothe and relax your baby's body.
All our paediatric Cranial Osteopaths have done further post-graduate training in Cranial Osteopathy.
---
Young Children
School-age children are busy people! They are extremely active and yet their body is developing on every level. Hormones, skeleton and muscles are changing constantly and this can be a demanding time on a young child.
Your child may complain of muscle cramps in their legs, aches and pains, headaches or go through stages of clumsiness as they have their growth spurts. Osteopathy can differentially diagnose if there is musculoskeletal strain from growth spurts and Osteopathic treatment can restore and maintain healthy muscle growth and balance of tissue function.
If your child is sporty and very active, you might find that they occasionally complain of achey knees, ankles or feet. Osteopathy can be really useful at this time to diagnose the problem and also help your child learn to notice when a growth spurt is happening and how to manage any future problems.
This skill of self-care can be taken into adulthood and help them form a healthy approach to life.
All our Osteopaths are skilled in treating children and diagnosing the cause of any issues. They will always advise when it is appropriate to see a GP and advise on the best care for a particular problem.
---
Teenagers
Teens go through a lot… massive growth spurts with associated hormone changes, stress of exams and social life development.
It is a huge time of change and it is hardly surprising that your teen may complain of back pain, headaches, postural issues and sports injuries. We see a lot of teens within our practice and it is great to help ease the musculoskeletal issues that may have a negative impact on them during this time of change.
Our Osteopaths are good communicators and will help your teen express the problem that they are experiencing. Again, differentially diagnosing the cause will enable the Osteopath to help your teenager understand their problem and work towards health, well-being and an adult approach to self-care.
---
CONTACT US
Please do not hesitate to get in touch with us for any reason, we are here to help and welcome any feedback. Click here for more information.