Top Tips to Avoid Injury: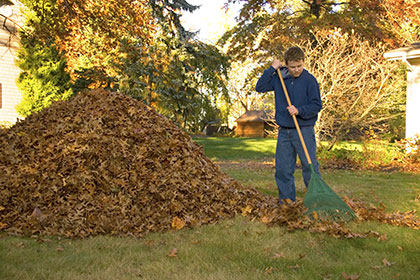 Keep Muscles Warm. Muscle strains often occur through lack of initial warming up or sudden lifting/movement without prior priming of that muscle. Before exercising in the cold try rubbing Deep Heat into your muscles or do a gentle warm up first.
Bend Your Knees When You Lift. Your leg muscles are incredibly strong so use them to take the strain of lifting rather than relying on your poor back to do all the work.
Avoid Lifting and Twisting/Turning. Too many of us bend, lift something heavy and then twist to move it into a new position - this causes more facet joint strains than anything else. Whilst flexed, keep your spine straight as you lift and only turn once you are upright.
Avoid Raking/Sweeping Positions if you have a Bad Back. This action causes torsion through the pelvis and lower back and puts a shearing strain through the pelvis. If you already have any chronic back pain especially disc problems then you must not hoover, iron, sweep or use a garden rake! If you are pregnant then this activity is also likely to cause damage so please avoid.
Avoid Reaching above Head Height if you have a Bad Neck. Actions of repetitively reaching above one's head whilst looking up can cause neck and arm symptoms. It is quite possible to trap a spinal nerve if this position is held too long. For example, pruning with shears in the garden above head height, painting ceilings.
We wish your family fun playing in the Autumn leaves and putting the garden away for winter. In the unlikely event of injury, apply ice packs to the injured area immediately for 15 mins per hour. If you are medically fit to take NSAIDS such as ibuprofen or Naproxen then do so with food.
Kingston & Teddington Osteopathy is open 6 days per week so if you need advice please call the land line on 0208 977 6396.