Facebook and Twitter:
You can find us on Facebook at Kingston & Teddington Osteopathy and on Twitter at K&T Osteopathy.
Regular posts and tweets are a way for us to explore the diversity of Kingston & Teddington Osteopathy with its multifaceted approach to the Whole Body and a Way to Better Health - our motto.
One of the most popular posts is Stretch of The Month. We also post our newsletters on Twitter and Facebook so that more followers can link to the website. All the past newsletters are posted on the website and if you take a look you might find some topics that are relevant to you and your health.
http://osteopathuk.co.uk/newsletters.htm
Please do feel free to explore these options as we are trying to demonstrate the complexity of Osteopathy and what it can be used to treat. If there are any topics that you would like a more detailed viewpoint of then please ask and we will be happy to help.
November Stretch of the Month: The Bridge Exercise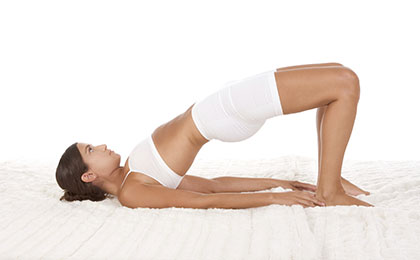 The hip Bridge Exercise activates the gluteal (buttock) and hamstring muscles. This exercise can help activate your core muscles and enhance spinal stability.
Lie on your back with your arms relaxed at your sides. Breathe in and then, as you exhale, raise your pelvis into the position in the picture. Hold for 15-60 seconds depending on your ability whilst taking slow steady breaths.
If you find this very easy then try the Advanced version. Do as above but go onto your tiptoes at the end of the lift and hold.