How can a Laptop Computer be Bad for Me?
Laptop computers were really invented for quick use on the go but now more of us are using them at home for prolonged periods of time.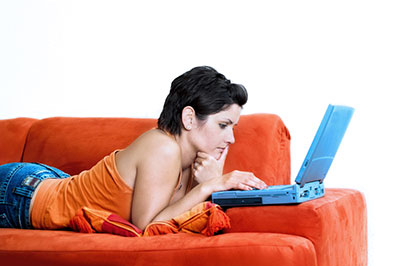 The classic laptop usage is often done on the sofa using the laptop on knees or at a low coffee table.. 15-20 minutes should be fine but most people use them for more detailed work and for longer.
Ergonomically, they are not good for us but we can adapt the time and way of usage to prevent musculoskeletal symptoms.
Common problems associated with laptop use are headaches, neck/shoulder aches, eye strain, repetitive strain injuries such as wrist and elbow problems and postural back ache.
How to Use a Laptop Ergonomically.
Firstly, take your laptop to a proper table and get a decent chair with low back support. If you are using a dining chair make sure that there is a cushion in the hollow of your low back to give support. However, in an ideal world it is best to use a chair on wheels so that if you need to turn for any documents then you turn the chair rather than twist your spine.
Next, buy a LapTop Riser stand which automatically turns your laptop into an ergonomically placed screen. These are cheap and easy to find on Amazon.
The next Must Have is a wireless keyboard and mouse - again easy and cheap to find on Amazon.
Laptop keyboards are often small and fiddly and by getting a decent keyboard you can place your hands in the correct position and reduce eye strain searching for keys. If doing any accounting or numbers work it is beneficial to get a keyboard with a numeric pad on the right hand side.
If you are petite, then a foot stand is also very good for posture as it keeps your centre of gravity back on your two sitting bones of the bottom.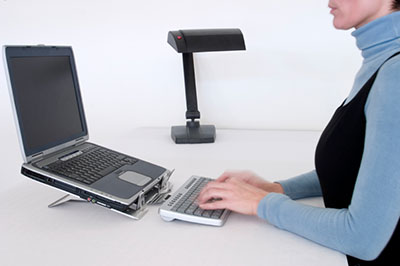 If you are experiencing any pains sitting at your computer, be it at home or the office, then please do not hesitate to call the practice on 02089776396 and the Osteopaths there will do their best to help you.